A True Religion Stories Book
True Religion Stories
- Funny, Unbelievable or "Only" Strange -
e-book by Oltea Goia-Demian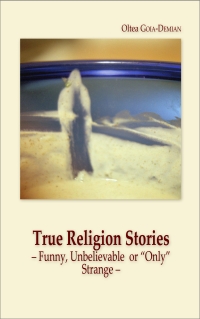 This edition contains 14 true stories related to religion. Partly you have (maybe) read them under the Religion Stories category on this site. Partly are yet unpublished.
I have set the price to $3, practically the minimum amazon allowed me, in order to make the book as affordable as possible to anybody who wants it. I do believe its content is worth spreading!
Purchasing
In the box below you find the links to different amazon stores:
My Religion Stories book on  regional amazon
For reasons I gave up to understand but have to do with your location, this e-book is up to $6.2 in different countries. I feel very frustrated not being able to change this.
Before purchasing, check several of them. You might get my original $3 price and not the swollen one.
(For example I am located in Romania. Looking on the German respectively the Japanese amazon, I see the fair prices of € 2.68, and 313 Yen.)
Further Details
I am working on the Romanian, French, and German editions. If all works well they will be released during 2014.
If you are an English-native speaker and are interested in this book, and want to pay for it by helping me improve its language in some stories, please contact me for details.
Why Writing?
One of the three or four times in my life when I was envious was related to writing. My first Literature teacher Dumitru Pele, RIP, praised once Tudor, a colleague of mine, for a homework text he had written. I remember him so well saying "Beautiful, Tudor, you have already your own style..."
How I wished he would say that to me...!! To me too, or to me instead, whichever, but to me!
Fast-forward to 2013. I have started this site on October 26th, a St. Dumitru´s Day. It´s not by accident I mention this date here, I have a whole story about this St. Dumitru Day. A story full of coincidences you might not believe. I like it that my Romanian Literature teacher was also born under this Saint´s sign.
Go to top
Go Home :)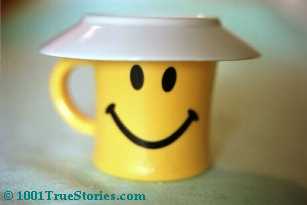 ... Or to any of ALL the STORIES in Sitemaps – Overview
---
---
---