HOME!
True Stories but Unbelievable.
Unbelievable Stories but True!
Yes, they are all true stories, welcome! I am glad you are here. I'd be even more glad if you like what I have to share with the world!
Many of my stories are incredible. And many of them I have lived personally. Others have been told to me by people I trust. There will be some exceptions too, I mean stories I have heard from people I haven't met in person – but then I do mention that.
Whichever their hue, you might like the things they all have in common:

They are our successes at 

parties;

actually we simply tell them any time we want to be interesting :) 

They have really happened
They all trigger one "!", two "!!" or more "!!!!!!!" 

They will make you think, laugh, or both - and give you funny or interesting "material" for your next conversation!
The official launching was on January 1st, 2014. You'll find weekly the new stories in the blog.
Starting inventory: roughly 260 real stories. If you want to be informed about each publishing, check the RSS box further down the left panel. And if you think they are worth, share what you think it might be interesting for somebody you care about!
1001 True Stories
It's still possible that some details got blurred on their way from the past to the present. My memory is worse than yours.
You may choose right now a story from the Sitemap's overview, or from the section on the left that is mostly hello-ing to you. Or from my recommendations, discussed a bit below along with a bit of info about the backstage.
| | | |
| --- | --- | --- |
| | | Menu category |
I Have Many Beautiful Stories to Tell
(How comes that, you may read here.)
I've realized some years before what a hectic, no, rather full life we had and still have. At all parties and gatherings, everywhere where people may start with Hey, guess what happened to me / my mother / my daughter / my... (fill in the blanks): you'll never believe…!!
Disclaimer
My native language is not English. Is it yours? Do you want to help improve the experience of the visitors after you? Please correct me where need be! Either by contacting me, or by writing in the comments following the story the change you think appropriate! 
 ... or where they simply talk about something – we, my husband and I, have both (independently) noticed that we usually can tell a similar or related story. (Does 46 mean already too old?!)
I started building this site on October 26th 2013. Exactly on the day when, 25 years before, started the life which led me here, telling you all these in From Atheism to Faith 1/2 and then their crown, From Atheism to Faith 2/2 (if you've skipped the photo-links above). They are ones of my most amazing stories. In a way, my life's story. If I were you and read them as yours, I should really trust you as myself to believe it...
Under Amazing Coincidences you'll find more of these, the "once in a life time"-type, which I or people around me have actually lived.
Other are strange true stories. I could call them eerie, or only weird, or mystery ones. Well, read and then call them what you want. The firework of this feast of life's fantasy and pranks, I guess, will be the Funny True Stories section.
Enjoy!
:), Oltea Goia-Demian
Go to top
| | | |
| --- | --- | --- |
| Menu category | Menu category | Menu category |
| Menu category | Menu category | Menu category |
Go Home :)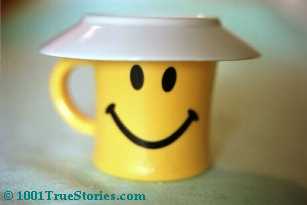 ... Or to any of ALL the STORIES in Sitemaps – Overview
---