Please Meet My Friend, Your Wife
(Home > Funny True Stories > Please Meet My Friend, Your Wife)
Everybody knew Aunt Ileana, and she knew everybody. Everybody was her friend and because of that she was I guess pretty much lonely. Every time I went in the church for the Sunday's Mass, her hat that she wore I think even in the bathtub was there, with the little body of Aunt Ileana beneath and her big soul all around. A little old lady who would always offer a helping hand.
The church was a newly built one. Incidentally its painter, Matei, a well respected artist in our city, was a friend of us. Not one we were seeing regularly. But when we did, we never finished to talk.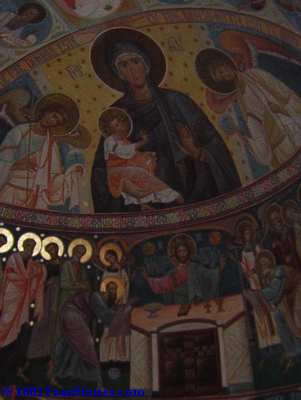 Because of his status and his artist life, but also because of a kind of humbleness, Sundays he stayed well after the end of the Mass, talking with people, with the priest, and getting the Chrismation (the priest anointing with oil the hands and the forehead) as the last one in the queue. His wife, Laura, as any Romanian traditional wife charged besides her job with the never-ending housekeeping, learned not to wait for him and make her schedule on her own.
Hence all the three of them, Matei on his side, and Laura and their son Mircea on the other side, were going and coming to and from events as if they were not originating from the same home. Church included: in the about two years since the Church opened, I had never seen them together.
No wonder Aunt Ileana hasn't seen them so either.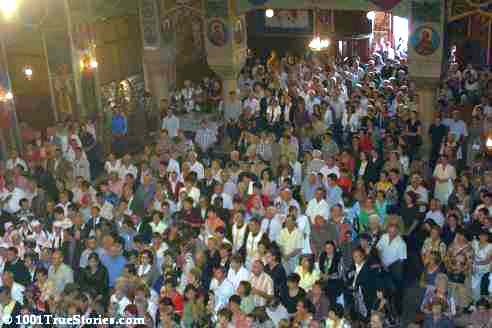 One Sunday after the Mass she was seated together with Laura and son Mircea in the same subway aisle. The subway had waited in that station already some good minutes and was about to leave, when, right before doors´ closing, Matei rushed in. He saw Laura and their son sitting in a 4 seats aisle with somebody, and since one place was free, he went to them. "Oh, Aunt Ileana!" He greeted her politely and sat down in front of her and near his wife.
Meet My Friend...
Aunt Ileana didn't know they were married. But belonging to a generation where it was a pride to contribute to a family grounding, she had said several times in her life those magic words...
"Mr. Matei, do you know Mrs. Laura? May I introduce her to you?"
Matei instantly understood the situation. He was a real artist. (I only wish I could tell you all his true stories...)
"No, I don't really know her..." he slightly reluctantly but still open said. He even mastered to display not even a trace of a smile.
"Oh!..." Aunt Ileana was delighted. "Mrs. Laura, you must already know our artist, Mr. Matei, everybody knows him. Please, meet my friend. He is the one who painted our church."
Mrs. Laura also got the idea what was going on, and entered the game with no difficulty. Even Mircea, their son, got it, and kept silent without smiling. He was 17 years old and he was a proud son of his father - sense for humor included.
"Oh, I am delighted, Mr. Matei, to meet you", Laura said, with a big smile. "You have done a wonderful job with the church. I do admire it a lot. What are you working now?"
Aunt Ileana was on cloud nine: Mr. Matei was obviously interested in Laura, and she was responding in the same way! It was not the first time she had said this "Please meet my friend". She was happy to help people, especially the lonely ones. But as far as she could remember, it was the first time it hit it off THAT obviously.
They had a good quarter of an hour ride before them, so she backed away, merely listening the conversation running smoothly, with not even one awkward pause
"... You do come often in the church, aren't you?"
"Yes, I do."
"Am I impolite telling you I think I haven't seen you so far?"
"Oh, no, of course, the church is so new. So many new people. Besides I am always standing right before the altar with my son, and on the women´s side. And I have seen you standing far behind, right at the entrance, and on the men´s side. So maybe that's why. And afterwards you meet many friends, sooo! many friends meeting... Don´t they eat too much of your time? From home, from... family?!"
Women in an Orthodox Church, seated on women´s side. Due to the culture, any one of them could have been Aunt Ileana - if they had a hat...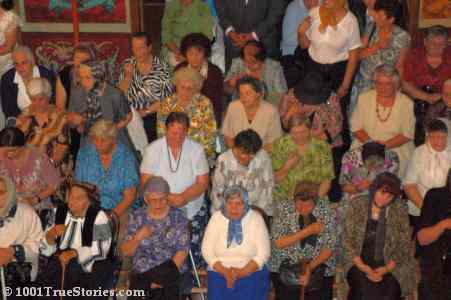 "... Is this handsome young man your son?"
"Yes, he is."
"What is he doing?"
"Learning, last grade in the school for talented kids. He is very good at..."
"... And is your job a hard one?
"No! Actually after 20 years doing it I know each corner of the company and of the soul of my colleagues..."
"... I am getting off next station. Where do you get off the train?"
"... What a coincidence!!"
"Marvelous!" Aunt Ileana must have thought. She was shining with pride about her idea to have her friends meet. 
A few months later, by (a really rare) chance, Matei and Laura came together to the church. They did take their usual places in women's half and men's half, but after the Mass they met again to plan something. So Aunt Ileana saw them talking with each other in a familiar manner. Her heart grew with joy and she couldn't prevent herself from telling the friend she was by that moment with...
"See the two of 'em? It's me who had the idea to introduce them to each other!"
"Whom do you mean?!" her acquaintance said, "Mr. Matei and Mrs. Laura?!"
"Yes, some months before, and look, they already..."
"Come on, you must be kidding.... they are married for ages!! The tall young man near them is their son..."
It took more than one year until Aunt Ileana stopped avoiding the family... she had err... grounded, and did overcome herself to start greeting and talking with them again.
Go to top
Go Home :)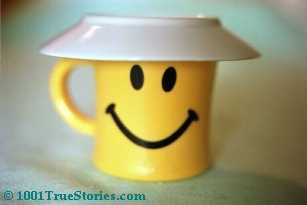 ... Or to any of ALL the STORIES in Sitemaps – Overview
---
---
---