Home > Ask and It Is Given > The Incidentally Perfectly Fitting Rug / Dear Universe, I Want a Shawl / Dots Dots Dots ... 
Some Short "Ask and It Is Given" Stories
… And here you are, a few more examples of other of those so many little things I had asked for in faith, that is without clinging onto the fact whether I receive it or not. (A short article about how one should make a wish to see it fulfilled is here. In short, it says that 1) you should ask by trusting God that you would get it, and then 2) forget the wish. You would remember it again when delivered!
Here come stories when I had unconsciously followed this path.
The Rug
After un-emigrating from Austria back to Romania, we wanted to buy a house for us, in my husband's city. Life wanted us to finally find a 100+ years old one on a wonderful parcel of land, quiet, and in the middle of the city. House demolished, house built – comma meaning the years for the bureaucracy and subsequent building – and here I am, writing from my new color-full room.
The house was standing already when I started to think about furniture & Co. We had here more rooms than so far, hence we needed more rugs. But the big choices the Austrian furniture stores had offered us while there, were now available only every once in a while, namely during our visits to Vienna. We wanted woolen handmade rugs, which are scarcely available in Romania, and if, in designs I dislike.
So I prayed to find a design I really liked exactly when we would visit Vienna for our new home shopping.
Ask and it is given… About one year later, having finished the building, I found my rug in the first furniture store in Vienna I entered. It was the second rug I have seen entering the rugs department, on top of a pile. The salesman said they had barely received that model – and indeed, they featured it in all 4 or 5 usual sizes. Two or three piles even had it on top, it was a fast-seller due to the beautiful vivid design.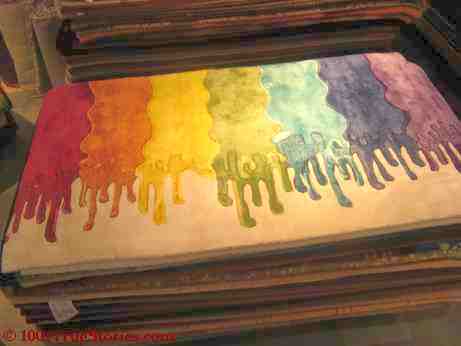 … I love rainbows. Their purity. The living colors. Their so beautiful shape. They are just water and white light – that whit light having all colors in it.
Yes, my rug has the colors of the rainbow as if being a painter's palette. 
Moreover, it proved to fit PERFECTLY in my room. By millimeter!! No kidding, no exaggeration.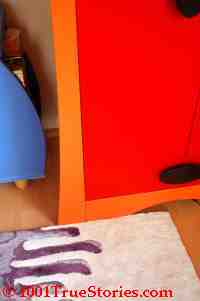 The photos here show how my rug incidentally! exactly fits between the table and the closet. (It would have been PERFECT actually if it was two millimeters shorter...) Any millimeter longer than it is now and I would have had to re-arrange the closets and the table, or have it making a bump around the adjacent table foot.
The Long Shawls
Maybe the first time I was stroke by how our prayers are answered was back in our time we were living in Vienna, maybe 2004 or so. It was late autumn and I fancied I'd like a looong shawl for that upcoming winter. The kind you wind twice around your neck and you still have parts of it hanging around. Since I don't have patience (and time) for shopping, I gave up before even starting looking for one.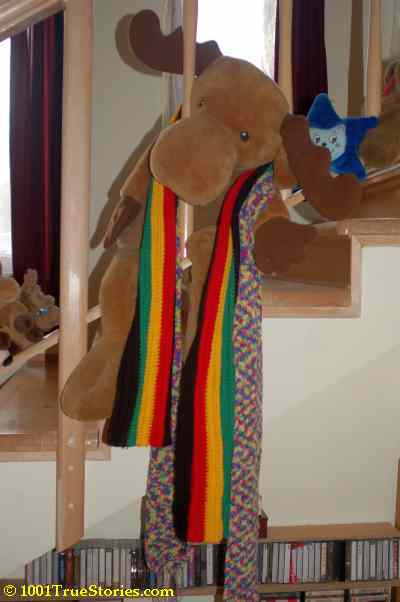 A few weeks after that, an old friend of mine came to visit us with her by now grown-up daughter. She had just checked her closet for things she hasn't worn in the past winters. She used to wear a lot this colorful knitted shawl, but she now doesn't like it anymore as much as others. She thought of me, Would I… ?
Some other weeks later we were in Romania for the Christmas holiday. I saw by the entrance in the apartment of an aunt of mine another colorful long shawl. To my surprise she suddenly asked whether I'd like it. She has just made some order in her closet (I too had your déjà-vu) and realized its vivid colors are too bright for her…
I ended up that winter with two long shawls.
Never before and never after had I been offered another long shawl.
Dots
At the beginning of 2010 I was once watching TV.
I know it this exactly because I have noted the event in my ideas notebook. Oh, NOT the event of TV watching, of course (even if it could have been, we watch it maybe two or three times a month) – but because it became one of those "Ask and it is given stories" I love.
In the advertising break, a Dots chocolate bar gazed out the screen into our world. We hadn't bought one for ages, the last one while still living in Austria, from where we had returned to Romania in 2006. I suddenly felt strongly like eating one again. However, I disliked being manipulated by advertising so I resisted calling my husband, who was out doing some technic shopping and the groceries.
One hour later he arrived home and told me in a conspiratorial manner he has a surprise for us. I opened the bags. Some bars of Dots chocolate where gazing at me!!!
(First check on YouTube the experiment with the robot Asimo being moved around solely by the thoughts of a person on Honda Develops Brain-Machine Interface Technology, and then give in to the temptation to doubt my story.)
Sidebar
By the way, I feel a threat in that technology. It's surely NOT like they show us in this video – c'mon, for helping us open our cars without keys?! – why they put their efforts, time and money into being able to act upon the world around with mere thoughts. Imagine a government or other evildoers :o)  :oP being able to do that!)
Go to top
Go Home :)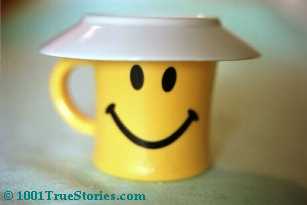 ... Or to any of ALL the STORIES in Sitemaps – Overview
---
---
---