Ask and It Is Given –
The Cardigan Jacket in Norway
Home > Ask And It Is Given > The Cardigan Jacket in Norway
It is not just a saying in the Bible. It is true: Ask, and it is given. I have experienced it so many times, with so odd requests or questions, that, if I recalled them all, I surely could fill a booklet solely with them. And you got bored.
To say the whole truth: Not ALL my wishes came true, of course. Not yet…
I've written already about how to correctly make a wish, I'll elaborate more about it here – and let's start this jacket story. It happened in Norway, July 2012. 
It was our first holiday there. The next day after landing in Oslo found the four of us further inside the land. Namely, on our way to Trollstigen. This is a beautiful, impressive road in the Norway mountains. Almost as beautiful as our Romanian road through Fagaras Mountains, called Transfagarasan.
Sorry...!
Scout's honor, this is the most impressive picture we have about Trollstigen, even if it was much more than that. The fog scrap on the upper left seems inoffensive. It was not.
The Transfagarasan road (picture below) is less famous and not so well marketed, but it has the same kind of beauty, for my taste even more beauty. It is also much higher situated. 2042 m vs. 850 m. (It's not important for the beauty itself, I was just kind and documented it for you.)
Btw, Transfagarasan was elected 2011 by Top Gear as the best road in the world. (And they haven´t seen yet our new Transalpina road!!, with 2145 m even higher than Tranfagarasan and in a way more impressive.)
Well, before entering the Trollstigen, there was a souvenir hut on the way. Being the first day of our journey, it was the first one we consciously perceived in Norway. We are no souvenirs fan, but for some reason my son wanted to enter it.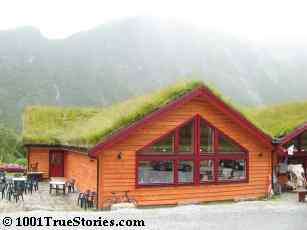 … We entered for him and found something for me… Without looking for clothing, this cardigan jacket stole my eyes and my heart. I recovered both instantly by looking at the price tag: "translated", about 240 Euro… Pfoa. A bit more than my monthly salary as a halftime teacher in Romania five years before.
But I did want the jacket. It was in a folk style which was similar to Romanians', was woolen AND handmade at that. Hence the price. It fitted also my newer program of dressing me in traditional clothes on special occasions. (I want to thus contribute to revive the true Romanian spirit and the more than 2000 years old traditions.)
My husband earns better then average and he encouraged me to buy it. He said that I generally buy so few things for myself (he's almost right), that when I see something I like I should buy it even if it's expensive.
I couldn't say Yes though. It was too much to take away from the household wallet. "If it was half the price", I said, "I'd have bought it." And I found the guts to add that, if that cardigan jacket was for me, I'd find it somewhere else.
If you read the article Ask And It Is Given you know it by now: it was genuinely a matter of...
Let go and let God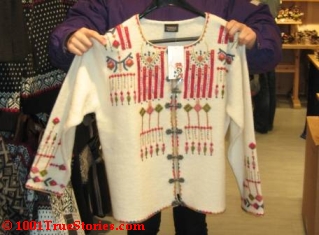 Now, as said, it was our first day and the first souvenir shop. We had no idea how popular that label was and what the chances were to find it somewhere else.
Next day found us in Alesund. My husband said suddenly We should look for a souvenir shop, maybe we find that cardigan. We entered the next shop in our way, with handmade pottery I think. We asked the lady for directions to a real souvenir shop. She was very kind (they seem to be all kind, in Norway) and directed us on a pretty complicated way toward what we wanted. 
To make a long story short. We did find that shop.
My cardigan jacket, in several sizes including mine, was hung with other clothes outside on the street. 
They were all
                              ON SALE
                                                      Half the price.   
No further comments, my dears.
Go to top
Go Home :)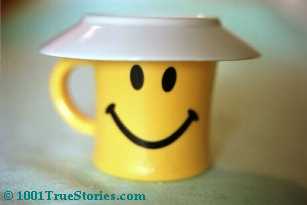 ... Or to any of ALL the STORIES in Sitemaps – Overview
---
---
---